SHAMPOOING & MOISTURIZING
I haven't talked much about what shampoo and hair cleansing products I use, and it's because I've never been satisfied with any. It's always either too stripping and alkaline or too moisturizing and like a 2 in 1 shampoo-conditioner. Many hair care journey girls use moisturizing shampoos to wash their hair, Creme of Nature Argan Oil Moisture & Shine Shampoo being a popular one. I've tried it, and personally felt it was a little too moisturizing -not for my hair, but for my scalp. When I wash, I want my scalp to be thoroughly cleaned and my hair to be subtly cleaned.
The key to healthy hair is a cleaned scalp and moisturized tresses. Naturally kinky hair is usually paired with natural dryness, so the focus is in increasing moisture. But sometimes, I think that many of us forget about the clean scalp part
-cowashing and oiling our scalps too much for example. I mentioned this in my
How to start a hair care journey post.
Nadege from Relaxed Hair Health also recently made a
post
about being weary of using cleansing conditioners and the like.
I've tried various ways of shampooing my hair without finding that winner.
Many moisturizing shampoos does not clean my scalp as thoroughly as I want it. Indian cleansing powers are very drying, can be time consuming, and the amount of usage needs to be monitored as they strengthen the hair like protein. A heavily diluted castile soap shampoo recipe is still rather alkaline. Cowashing does not properly clean your scalp and is not meant to completely substitute shampooing.
Then there are shampoo bars.
AYURVEDIC SHAMPOO BARS
Shampoo bars seem to be the only things I've tried that gently cleanses my hair the way I want.
I use ayurvedic shampoo bars from Hairveda, right now I have their Cocasta Shikakai Bar and Red Tea Shampoo Bar in my possession. In my experience,
Hairveda is the best hair product line for girls with naturally kinky textured hair
, it doesn't matter if you're natural or relaxed. The only downside for me is that I have to buy online and they're products are a little expensive, so I usually wait for their sales because they have quite a few of them. I've been using Cocasta Shikakai since the first time I bought from them and it's been a keeper.
Shampoo bars are what have been working for me so far, the only problem is that they're a bit of a nuisance to use since they're in bar form instead of familiar liquid form.
So I googled whether there's a way to liquefy them, and the process is extremely simple.
HOW TO LIQUEFY SHAMPOO BARS
RECIPE
1 CUP water
1 TSP glycerin
1 TSP oil of choice
And your shampoo bar.
DIRECTIONS: Grate the shampoo bar with a cheese grater until your soap flakes measure 1 cup. Bring the 1 cup of water to a boil and then pour the shampoo bar flakes into the water. Add the glycerin and your oil of choice into the mixture, I usually use jojoba oil. Stir the mixture and adjust the heat until blended. And lastly, pour your now liquid shampoo into a shampoo bottle. It's that simple.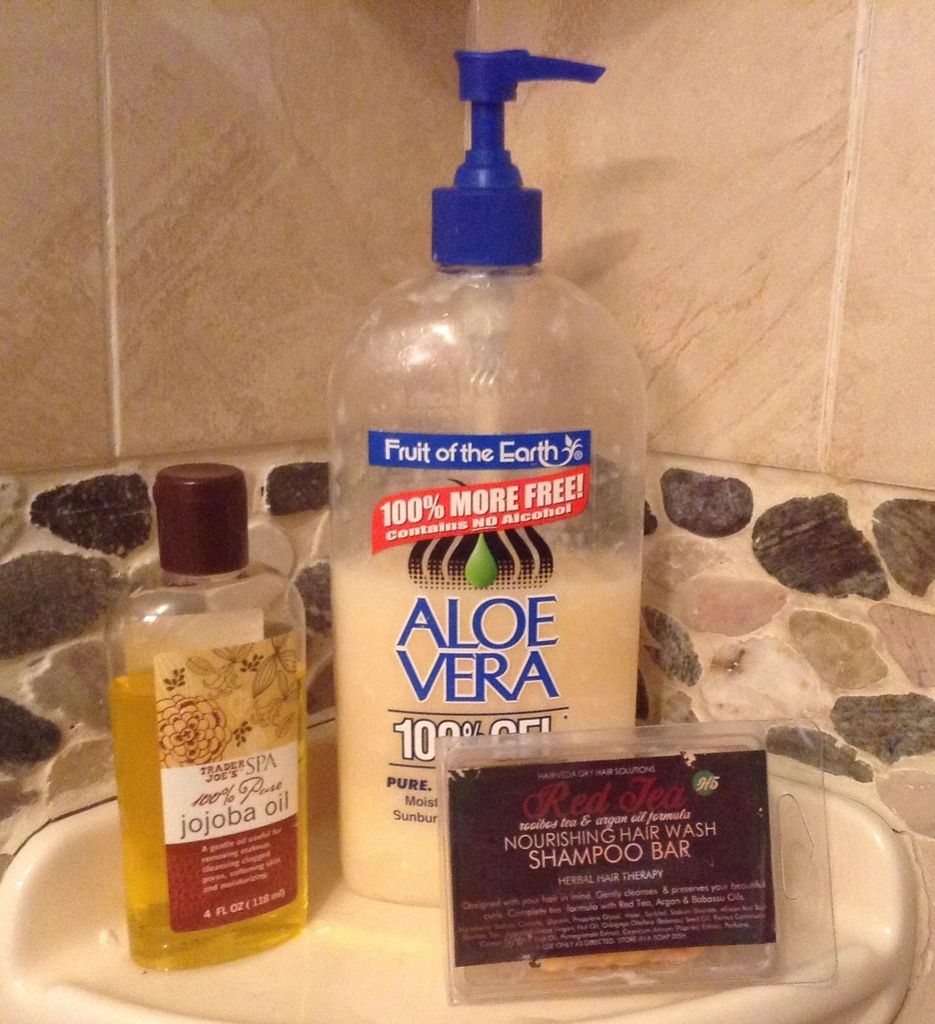 This round has been my third time doing this, but my first time using Hairveda's newer Red Tea Shampoo bar to do it. I used an old Fruit of the Earth Aloe Vera container, it's the appropriate size and I find the nuzzle easier to use than the usual shampoo nuzzle.